Lit & Luz: Archive/Archivo
Feb 06, 2015
---
Published:
---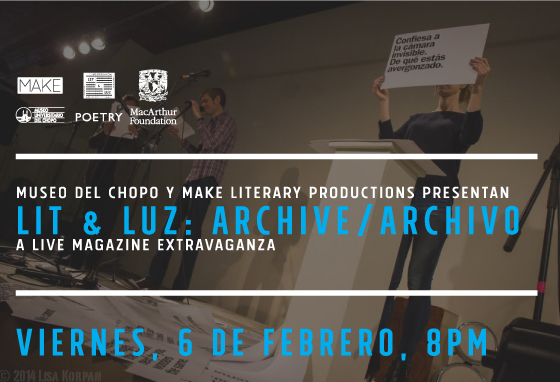 Viernes, 6 de febrero, 20:00 HRS
For the Facebook event page, click here.

Museo del Chopo y MAKE Literary Productions presentan un evento multidisciplinario, multilingüe, audio/visual, interactivo, actuaciones integradas traerán a la vida a un volumen de la revista MAKE en escena y exhibirán colaboraciones entre escritores y artistas visuales de Chicago y Ciudad de México.

Este evento oscilará entre español e inglés a lo largo del tema "Archivo", explorará los contextos históricos en que las ciudades de Chicago y México existen, además de cómo documentamos nuestras vidas y cultura en la era digital. 

Gracias a los MacArthur Foundation, POETRY, Casa Refugio Citlaltépetl, Museo del Chopo, UNAM, y Conaculta por sus apoyo con Lit & Luz!

Los participantes serán:
• Autor, Kathleen Rooney + Autor y artista visual Verónica Gerber Bicceci
• Artista visual, Kirsten Leenaars + poeta, Joel Craig + poeta, Luis Felipe Fabre
• Artista visual, Tania Candiani + escritor, Fred Sasaki
• Poeta, Marvin Tate + novelista, Valeria Luiselli
• Poeta y artista visual, Valerie Mejer + Poeta, Daniel Borzutzky
• Novelista, Brenda Lozano
Benjamín Anaya presenta
__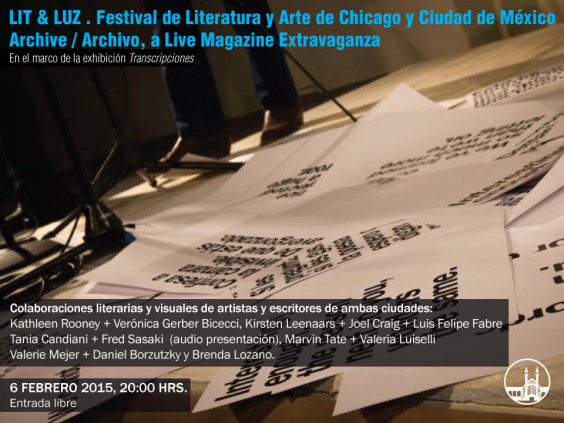 _____________________________________
CIUDAD DE MÉXICO
Tania Candiani
Tania Candiani es una artista visual conocida su habilidad tanto para hacer arte con el ajetreo de la vida cotidiana como para cuestionar miradas convencionales; casi podría caracterizársele como una artista-antropóloga. Candiani participará de manera virtual.
Luis Felipe Fabre
Luis Felipe Fabre ha publicado la colección de ensayos Leyendo agujeros (2005) y las colecciones de poesía Cabaret Provenza (1996), La sodomía en la Nueva España (2010) y Poemas de amor y de misterio (2013).
Verónica Gerber Bicecci
Verónica Gerber Bicecci es una artista visual que escribe. Trabaja en piezas visuales que son textos y en textos que son piezas visuales. Sus proyectos exploran los rastros infinitesimales de lo que no se puede oír ni ver. Su libro Moving Out (Auieo-Taller Ditoria, 2010) narra la transformación de cinco escritores en artistas visuales.
Brenda Lozano (Ciudad de México, 1981) es narradora y ensayista. Estudió Literatura Latinoamericana. Es becaria del programa Jóvenes Creadores del FONCA, ha tenido algunas residencias de escritura en el extranjero y ha sido antologada en diversas ocasiones. Edita la sección de narrativa, dedicada a traducir textos de español a inglés, en la revista literaria MAKE. Todo nada (Tusquets, 2009) es su primera novela, Cuaderno ideal (Alfaguara 2014), la segunda. Próximamente Todo nada se llevará al cine. Actualmente estudia en NYU y vive en Nueva York.
Valeria Luiselli
Los recientes proyectos de Valeria Luiselli incluyen un guión de ballet para el coreógrafo Christopher Wheeldon, una instalación peatonal para Serpentine Gallery de Londres, y una novela corta por entregas para trabajadores de una fábrica de jugos en México. Su novela Los ingrávidos y su colección de ensayos Papeles falsos se publicaron este año en su versión inglesa por Coffee House Press.
Valerie Mejer-Caso
Valerie Mejer-Caso es poeta, ensayista, traductora y pintora. En su faceta de artista, ha colaborado en dos libros de Antonio Prete, Menhir y L'imperfection de la Lune; Los Boteros de la Noche de Raúl Zurita; y "Ligatures" de Forrest Gander. Es la autora de De la ola, el atajo (2010) y Cuaderno de Edimburgo (2013), libros de poesía publicados por Amargord Editions.
CHICAGO
Joel Craig
Joel Craig vive y trabaja en Chicago, Illinois, y es el autor de la colección de poesía The White House (Green Lantern Press, 2012). Es co-fundador y curador de la serie Danny's Reading, y es el editor de poesía de MAKE.
Daniel Borzutzky
Los libros de poesía de Daniel Borzutzky incluyen In the Murmurs of the Rotten Carcass Economy, en proceso de edición, The Book of Interfeering Bodies (2011) y The Ecstasy of Capitulation (2007). Sus traducciones de poesía incluyen The Country of Planks and Songs for His Disappeared Love, de Raúl Zurita (2010) y Port Trakl, de Jaime Luis Huenun (2008).
Kirsten Leenaars
Kirsten Leenaars es una artista holandesa y profesora asistente de prácticas contemporáneas en School of the Art Institute de Chicago. Al realizar escenarios infantiles, crea espacios donde los participantes a menudo actúan en narrativas colaborativas.
Kathleen Rooney
Kathleen Rooney es editora fundadora de Rose Metal Press, un sello editorial de literatura híbrida, y miembro fundadora de Poems While You Wait, proveedores de poemas por pedido. Su libro más reciente es la novela O, Democracy! (Fifth Star, 2014).
Fred Sasaki
Fred Sasaki es el director artístico de la revista Poetry, curador para la Poetry Foundation y co-fundador de la serie de lecturas "101", producida por Homeroom Chicago. Junto con su hijo y difunto padre, es autor de la serie de fanzines FRED SASAKI'S & FRED SASAKI'S FOUR-PAGER GUIDE TO: HOW TO FIX YOU.
Marvin Tate
Marvin Tate se ha puesto muchos sombreros en su carrera de veinticinco años: artista visual, autor, educador y cantautor. Poeta notorio y Soul Man, ha actuado ampliamente. Recientemente lanzó la colección de canciones Tim Kinsella sings the songs of Marvin Tate with LeRoy Bach and Angel Olsen en el sello Joyful Noise (2013).
---