MAKE #10 Release Party
Dec 17, 10
---
Published:
---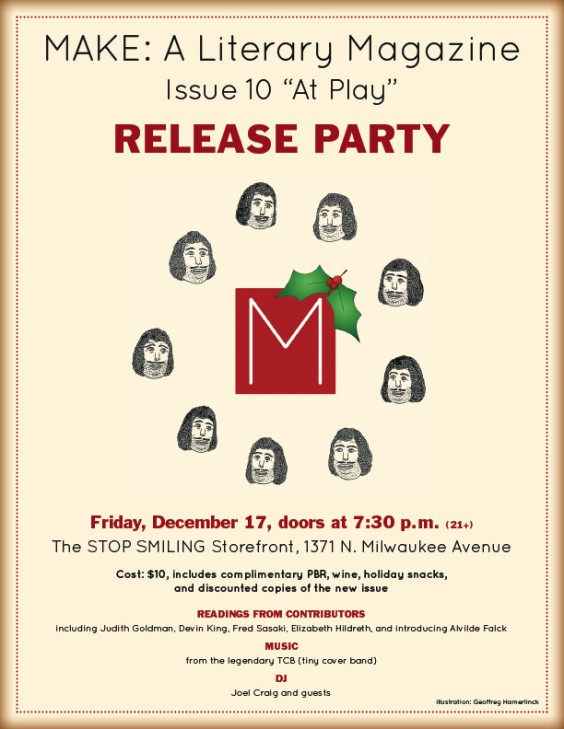 MAKE Literary Productions presents:
MAKE: A Literary Magazine Issue 10 "At Play" Release Party
(and continued celebration of five years of MAKE.)
When: Friday, December 17, doors at 7:30 pm / Where: The STOP SMILING Storefront
, 1371 N. Milwaukee Avenue / Cost: $10, includes complimentary PBR, wine, and holiday snacks, 21+
What:
Readings from contributors including poets Alvilde Falck, Judith Goldman, Elizabeth Hildreth, Devin King, and Fred Sasaki
Big sounds from tiny instruments via TCB (tiny cover band) ( http://www.facebook.com/pages/TCB-tiny-cover-band )
Mini-Chicago Ward Primer featuring the Top Five Things That Are Five Things
DJ Joel Craig and guests
Issue 10 subscriptions and individual copies available for at a discount
HYPERLINK "http://www.makemag.com/"www.makemag.com
More on participants:
Alvilde Falck is a nineteen-year-old Norwegian girl currently studying in Chicago. In Norway, her poetry has been published in a collection of poems by teenage writers, as well as in a nonfiction book on female youth culture. In America, her creative nonfiction has been published in Orion Magazine.
Judith Goldman received her PhD from Columbia University in English and Comparative Literature (2007). She is also the author of two books of poetry, Vocoder (Roof 2001) and DeathStar/Rico-chet (O 2006), and the co-editor, with Leslie Scalapino, of War and Peace, an annual anthology of experimental writing against the war.
Elizabeth Hildreth lives in Chicago and works as an instructional designer and a regular interviewer for the online literary magazine Bookslut.  She blogs at The Effect of Small Animals. HYPERLINK "http://theeffectofsmallanimals.blogspot.com/"http://theeffectofsmallanimals.blogspot.com
HYPERLINK "http://dancingyoungmen.wordpress.com/"Devin King lives and works in Chicago. His first book of poetry, CLOPS, is out from the HYPERLINK "http://press.thegreenlantern.org/"Green Lantern Press.
Fred Sasaki's work in this issue is from a manuscript called "Letters of Interest," parts of which have appeared or are forthcoming in the Iowa Review, Pax Americana, ACM, Artifice, Proximity, Rocktober, and other places.
~
---