Mission Creek Festival, 2011
Apr 02, 11
---
Published:
---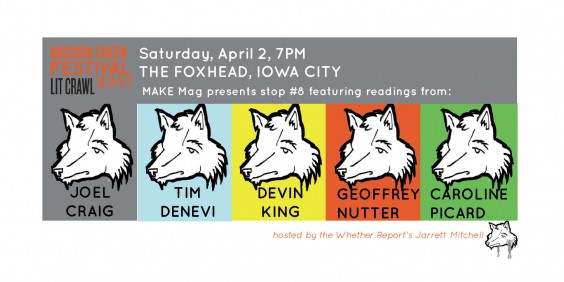 As part of the Mission Creek Festival's LIT CRAWL, MAKE presents a reading at the Foxhead featuring Joel Craig, Tim Denevi, Devin King, Geoffrey Nutter, and Caroline Picard. The Whether Report's Jarrett Mitchell hosts.
Mission Creek 1st Annual Lit Crawl! Presented by MAKE Magazine, Monsters of Poetry, Defunct Magazine, Quickies, Black Ocean Press, Wag's Revue, Rescue Press, and the Iowa Review
5:00 – 5:45pm
Nemesis Tattoo – hosted by Black Ocean Press
Times Club – hosted by Wag's Revue
Dublin Underground – hosted by Quickies!
6:00 – 6:45pm
RSVP – hosted by Rescue Press
Home Ec – hosted by Defunct Magazine
Teaspoons – hosted by the Iowa Review (featuring MAKE editor Kathryn Scanlan)
7:00 – 7:00pm
Georges – hosted by Monsters of Poetry
Foxead – hosted by MAKE Magazine
The Mission Creek Lit Crawl will showcase the talents of literary entities and writers from across the Midwest and the Northeast, at a number of venues and business across campus and downtown Iowa City. One crawl, three rounds, six locations, and more than 25 writers will appear.
Check out the Mission Creek site for the full schedule of events and a list of exhibitors heading to the Mill for a free book fair starting at 1pm on Saturday.
http://www.festival.missionfreak.com/literature.html
---