Lit & Luz: Puntos de Reunión
By Martin Seay
---
Published:
---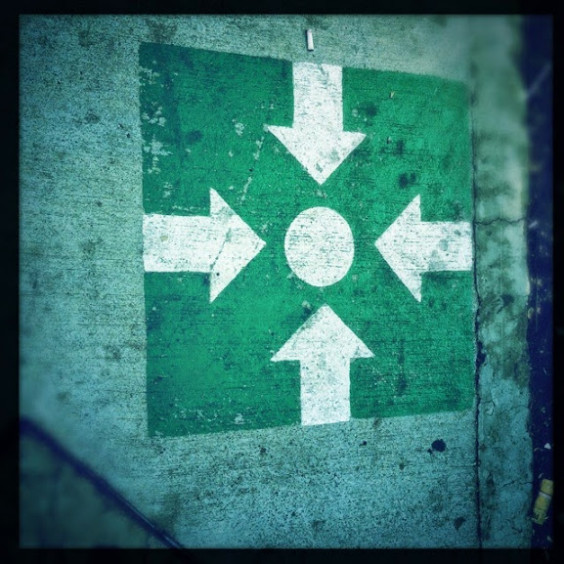 Painted on the sidewalks of Mexico City are a multitude of large green squares, each containing four white arrows aimed toward its central point.
Blame it on the fact that I grew up in one of the most geologically stable parts of North America (the coastal plain of Texas) and currently reside in another one (Chicago), but when I first noticed these squares I had no idea what they meant.
Which is not to say I had no clue what they meant.  I had heard more than once that Colonia Roma, the neighborhood where we were staying, was hard-hit in the 1985 earthquake that devastated Mexico City.  In a roundabout way—and in the typical perverse manner that cities worldwide seem to grow and change—the earthquake is what brought us to Colonia Roma: Extensive damage from the disaster made property there cheap; the allure of low rents and stately crumbling buildings attracted a succession of artists, developers, and hipsters ("eep-stairs" en español); and as a result the area is now home to a robust gallery scene, with attendant restaurants, bars, shops, and so forth.  We were in town for the inaugural Lit & Luz Festival, a Chicago–Mexico City cultural exchange sponsored by MAKE Literary Productions (with support from the MacArthur Foundation's International Connections Fund) and coinciding with the annual Material Art Fair.  My spouse Kathleen Rooney was there to perform her collaboration with the amazing Mexico-City-based Verónica Gerber Bicecci at a "live literary magazine" extravaganza hosted by the Museo Universitario del Chopo.  I was tagging along.
The green squares are puntos de reunión—meeting places—where people congregate after evacuating their homes and businesses in an earthquake or some other disaster.  I don't believe I've seen anything quite like them in the USA.  Our focus tends to be on marking exits and evacuation routes; so far as we're concerned, the key thing is just to get out.  Mexico City seems to put equivalent emphasis on regrouping, on making sure that everyone is accounted for, which strikes me—perhaps naïvely—as commendable: indicative of a community that understands and insists on the importance of coming together quickly when things go wrong.  The punto de reunión is not merely a utility, but also an institution of incalculable societal value: a place where people can gather to take stock of what's been lost, what's been saved, and what must be done next.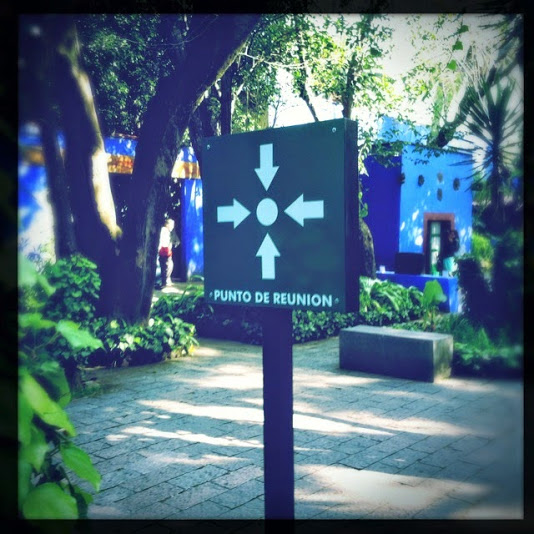 It took us a couple of days—and the discovery of a helpful sign in the courtyard of La Casa Azul, the Frida Kahlo museum located in the house in Coyoacán that she shared with Diego Rivera—to finally figure out what the puntos de reunión are.  But I first began to wonder about them on a long walk we took the previous day through the neighborhoods west of Colonia Roma, a walk that began at the Luis Barragán House and included the National Museum of Anthropology (with its stunning umbrella fountain), the Bosque de Chapultepec (a huge urban park), the chic Condesa district, and the Material Art Fair at the BlackBerry Auditorium in Colonia Hipódromo, before winding us up at the modest and venerable Casa Refugio Citlaltépetl.
Casa Refugio had been kind enough to host a reading (in English) by the visiting Chicago writers, and the MAKE crew were kind enough in turn to include me in the event lineup, which also featured Daniel Borzutzky, Joel Craig, Luis Felipe Fabre, Valerie Mejer, Kathleen Rooney, Fred Sasaki, and Marvin Tate.  For this I am very grateful.
A civic and cultural organization established in 1999 as an expression of "the traditional Mexican spirit of openness and generosity," Casa Refugio's primary mission is to host writers who face persecution or threats in their home countries.  For those writers, and for many more besides, it is an institution of incalculable value: a place where people can gather to take stock of what's been lost, what's been saved, and what must be done next.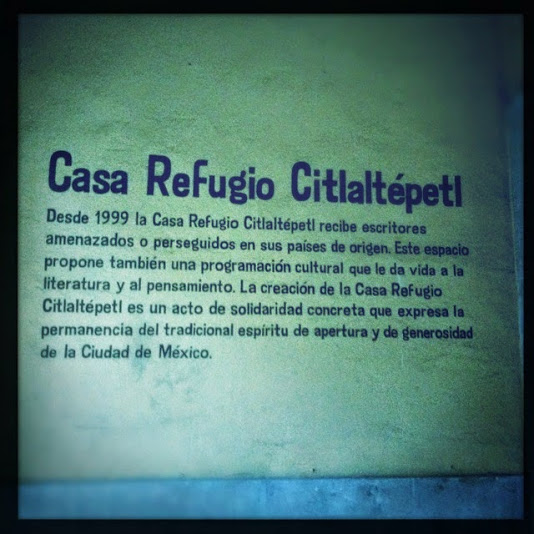 Photos by Kathleen Rooney.
---
Martin Seay's writing has appeared in MAKE, Joyland, Gargoyle, the Believer, and the Gettysburg Review. He lives in Chicago with his spouse, the writer Kathleen Rooney, and maintains the blog New Strategies for Invisibility.