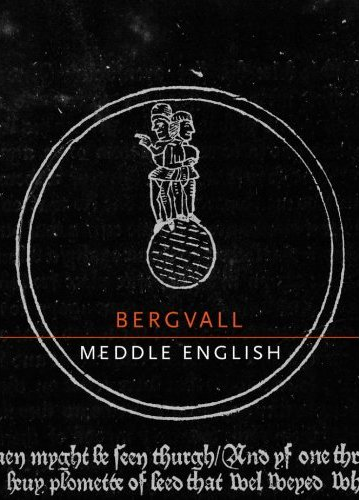 Meddle English: New and Selected Texts
New and Selected Texts by Caroline Bergvall
Nightboat Books , 2011
128 pages
Reviewed by Mary Wilson


Meddling, in colloquial terms, is not usually a good thing. There's something threatening about it, something that suggests unwanted or unwarranted intrusions. To meddle is to complicate, to create or uncover tensions that may not have been visible before. Yet in Meddle English, the latest book from writer and performance artist Caroline Bergvall, meddling is not only desirable, it is also necessary. It becomes a foray into the very foundation of language, the very tools of speech. And speech, in her words, "highlights the social machines that underpin the work of writing: the voices, the languages, the pleasures, the complex nexus of cultural and literary motivations with their access markers, their specific narratives." Meddling, for Bergvall, is writing. It's writing that calls language itself into question—writing that searches endlessly for hints of word origins, geographic markers, class structures, and sonic or syntactic associations. It's writing that won't leave language alone.

Meddle English brings together a broad sampling of Bergvall's linguistic experiments. The book combines both published and unpublished texts from the past decade, including works that originated in some of Begrvall's many text-based multimedia installations. These have been exhibited internationally at the Hammer Museum in Los Angeles, The Museum of Modern Art and Dia Art Foundation in New York, London's Tate Modern, and the Museum of Contemporary Art in Antwerp, to name just a few locations. Yet while the context of these exhibitions may be lost, Meddle English makes it possible to encounter Bergvall's writing for its textual qualities alone. The encounter does not disappoint.

Bergvall's work occupies the middle ground between concrete poetry, collage art, and essay. Her close ties to performance art and the sonic aspects of her writing allow her to think of language as something embodied, to think, in her words, "of the body as always having an accent." This concern could easily be traced back to her own biography. Bergvall was born in Germany in 1962 to a French mother and a Norwegian father, and so from the beginning she was no stranger to linguistic and national complexities. She spent parts of her childhood in Geneva, Paris, New York, and Oslo, and currently works in England and the United States. Although she can (and does) write in several languages, her work is aimed primarily at an English-speaking readership.

Bergvall is very familiar with the linguistic middle ground. Accents, slang, verbal and grammatical slips, idiomatic expressions, and nonsense words become for her a point of entry, a site of meaning that writing is particularly well suited to explore. For this reason, Bergvall's writing may seem forbidding to readers who are unfamiliar with "experimental" contemporary poetry. She shifts frequently between English, French, and Middle English, or blends languages together in a seamless string of sonic or typological associations. In "Middling English," the essay that opens and conceptually unites the book, Bergvall lays out the terms of this unique, polylingual poetics, offering as an example the work of artist Gordon Matta-Clark, who was famous for literally cutting a condemned Paris apartment in half, exposing its insides to passersby. In this case, writes Bergvall, "what gets revealed is history and ground. Or rather, ground history, compost, history as compost."

What is also revealed, if we take Bergvall's statement at face value, is her conception of language as a ground, as something that might be moved through, built on, or cut to reveal its hidden meanings. Perhaps it is this understanding of language that fuels her restless search for collaborators. For, despite the uniqueness of her own polylingual voice, Bergvall is often inclined to seek others. She seems to prefer collaborating, whether through actual exchanges with other living artists or through a process of collage, quotation, or conversation with another artist's work. One such collaboration occurs in Goan Atom (1. Doll). Here, Bergvall conjures up the highly sexualized and objectified creations of Hans Bellmer, a German artist who was loosely associated with the Surrealist movement in 1930s Paris. In Bergvall's treatment, this process of objectification is enacted in the text itself. The resulting effect, however, is quite different than that of Bellmer's original. Bergvall allows language to be the driving force behind this objectification, revealing the violence inherent in words themselves. As Bergvall's text demonstrates, this violence is deeply embedded and deeply gendered. Language alone can objectify and implicate all genders, readers, and speakers. As she writes in the poem's epigraph, "Anybod's body's a dollmine."

While it is always both tempting and dangerous to say that a writer performs what she advocates, in Bergvall's case this assertion may be justified. Bergvall has a remarkable gift for borrowing. She is able to rework quoted texts from sources as diverse as Chaucer's Canterbury Tales, Keynesian economic treatises, news articles, papal speeches, pop songs, and science fiction novels, all without succumbing to the temptation of full appropriation. Bergvall's technique veers between collage and a constraint-based process that speaks to the Oulipo movement's influence on her work. Oulipo, which is short for "Ouvroir de littérature potentielle" ("workshop of potential literature") began in France in the 1960s. Its members used constraints or processes to generate artwork in a variety of media. The most famous result of these experiments was George Perec's novel La Disparition, (A Void) which was written entirely without the use of the letter "e."

Bergvall composed "The Host Tale"—one of the "Shorter Chaucer Tales" in Meddle English—in a similar spirit, by extracting and reordering lines from the Canterbury Tales that refer to eating and drinking. The end result is an onslaught of voluptuous Chaucerian sensuality so excessive it makes even Chaucer's "Pardoner's Tale" look like an ascetic spiritual discourse. Other works in the series are more explicitly political. In "The Summer Tale," Bergvall relates the contents of a BBC News article on Pope Benedict XVI, all in a faux Chaucerian English. The article tells of a ban on liquor sales in Poland during the Pope's visit, a ban that would not apply to the Pope himself. As Bergvall notes, "Television advertisements for licour / have eek also been banned. / Along with those for contraceptives, lingerie and tampons."

Bergvall is a writer who seeks, in her words,
the indicators and practices of language in flux, of thought in the making: pleasured language, pressured language, language in heated use, harangued language, forms of language revolutionized by action, polemical language structures that propose an intense deliberate reappraisal of the given world and its given forms.
As a result, her work is constantly experimenting, constantly calling itself into question. But to call Bergvall's writing "experimental" would not do it justice. These days, "experimental" seems to be a catchall category for writing that is "new" and "different," as if to experiment were not an action but a stable condition of a work. Bergvall is not "experimental." She is a writer who experiments. She approaches language as a pliable medium, one whose rules, behaviors, and properties are constantly rediscovered in the process of her work. Meddle English reveals these discoveries and shows us a writer who understands fully the risks, pleasures, and possibilities of her art.
---
Mary Wilson lives and writes in Oakland, California. She received an MFA in Literary Arts from Brown University in 2012, and is currently pursuing a PhD in Literature at the University of California, Berkeley.