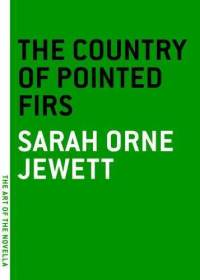 The Country of the Pointed Firs
A novella by Sarah Orne Jewett
Melville House, 2010 (first published in 1896)
158 pages
Reviewed by Mark Molloy
The phrase "country of the pointed firs" is used only once in this meticulous, beautiful little novella: towards its end, in the chapter entitled "The Feast's End." The scene is the Bowden family wedding, the biggest event of the year for the inhabitants of Dunnett Landing, a sparsely populated, decaying fishing village in turn of the 20th century Maine. Our narrator, a woman returned to Dunnett Landing "after a brief visit made two or three summers before," is attending the wedding with friends. Overwhelmed at the intensity of the occasion, her thoughts retreat from the scene around her – as they so often do – into generalized observations of nature and life. As the wedding is wrapping up, she contemplates the social bonds of that place, the different ways adults and children there have of responding to one another. Mostly, her thoughts are of the "elder kinsfolk," with their "affectionate meetings and… reluctant partings. " To the young our narrator barely gives any thought at all, noting only that, for them, "the time of separation has not come."

Sarah Orne Jewett, a pioneer of American realism and American local color, was born in 1849 into the wealth of an old New England family of South Berwick, Maine, then a booming fishing town (and the model for the Dunnett Landing of this work). Though she would eventually move to Boston and travelled abroad extensively throughout her life, her heart never left Berwick. "When one really knows a village like this and its surroundings," Pointed Firs' narrator says in its opening pages, "it is like becoming acquainted with a single person. The process of falling in love at first sight is as final as it is swift in such a case, but the growth of true friendship may be a lifelong affair." The Berwick of Jewett's childhood was already a burgeoning seaport, but over the course of her life it fell into what Jewett perceived to be an industrialized decay. "Berwick itself is growing and flourishing in a way that breaks my heart," she wrote in a letter. Berwick and the changes it was undergoing – and, analogously, Jewett's ambivalent sense of her own world as it once was and had become – are unwaveringly, if indirectly, the fixed center(s) around which Pointed Firs is set.

Effectively plotless, the "story" of Pointed Firs is that of a summer spent by its narrator, a visitor to Dunnet Landing, and of the friends and acquaintances she makes during that time. This narrative form – that of an outsider who visits and observes a rural locale – is one that Jewett repeatedly returned to in her fiction. She seems to have chosen it partially as a means to convey her own nostalgia for Berwick and the comforts and simplicities of her childhood.

Nostalgia is certainly a central presence in this work: the burden of the loss of innocence exerts a powerful gravity on nearly every page here. A fisherman and widower, now in retirement, visited by our narrator, is described as sitting in mourning "with his head bowed over his knitting, as if he were hastily shortening the very thread of time." Elsewhere, there is Joanna Todd, with a mind "like bad eyesight… [for which] there's no kind of glasses to remedy." But though the work is a predominantly realistic one, this nostalgia also lends Pointed Firs' atmosphere a subtly Romantic tinge. The trappings of industrialization are largely absent here. Dunnett Landing is instead portrayed as a place of open fields and dark woods, of ledge and rocky shore: still, sparsely populated, archipelagal. The conflicting drift of Jewett's portrayal of Dunnet Landing and its inhabitants between realistic and nostalgic modes is one of the predominant dynamics of the work, and gives to the work a psychological complexity of considerable depth. Jewett's often downplayed though at times abrupt utilization of a firm irony contribute powerfully to this effect.

Jewett was championed from an early age by the Atlantic Monthly and its then editor William Dean Howells – an early American champion of American realism now remembered primarily for his flawed Rise of Silas Lapham – and was first published there at age 19. The year was 1868 and Jewett, alongside fellow Atlantic Monthly authors Harriet Beecher Stowe, Rose Terry Cooke and Rebecca Harding Davis, helped steer the portrayal of women in American literature away from the sentimental and two dimensional female characters common at the time and towards a greater complexity and verisimilitude. This group was also instrumental in fomenting another innovation in American letters: the reinvigoration of local color, the dignified and purposeful portrayal of specific localities each in their own accent. The fisherman quoted above refers to stakes in his yard as "buoys," which he "struck on to some heavy rocks that didn't show none, but a plow'd be liable to ground on 'em, an' so I ketched holt an' buoyed 'em same's you see."

These two innovations helped push American literature towards the greater rigor of the Modern voice, which would first achieving "canonical" recognition in, perhaps, Sherwood Anderson's 1919 short story collection Winesburg, Ohio. This influence – only one among many in the development of Modernism, of course – then branched out to Hemingway and the other Modernists. The canon that I refer to was largely defined by F. O. Matthiessen, whose American Renaissance: Art and Expression in the Age of Emerson and Whitman is a classic of American literary criticism.

Still, Jewett's gifts have always been recognized by a select few, and continue to be. Pointed Firs, especially, was immediately recognized as a major achievement. Henry James called it, perfectly, "a beautiful little quantum of achievement." Willa Cather listed it as one of her three great American novels (the other two were The Scarlet Letter and Huckleberry Finn).

If looks to predecessors of Jewett, one looks to character-centric writers. Jane Austen is the most obvious influence. The same irony is here, though lessened somewhat in Jewett. Jewett's temperament is also warmer, and her scale smaller, than Austen's. Washington Irving – that secular saint of American literature – may be her most kindred spirit (I do not know whether or not Jewett was aware of his work). The fantastical elements of his stories are mostly absent here (though, again, the Romantic element in Pointed Firs at times hints at Irving's more thorough variety), but the simplicity and modesty with which he painted his landscapes, and the fondness, even love, with which he held his characters are pronounced as well in Jewett.

In Pointed Firs' closing passage, aboard a steamer departing from Dunnet Landing, our narrator waxes lyrical the sadness of her departure in a passage of stunning rhetorical power:

As I came away on the little coastwise steamer, there was an old sea running which made the surf leap high on all the rocky shores. I stood on deck, looking back, and watched the busy gulls agree and turn, and sway together down the long slopes of air, then separate hastily and plunge into the waves. The tide was setting in, and plenty of small fish were coming with it, unconscious of the silver flashing of the great birds overhead and the quickness of their fierce beaks. The sea was full of life and spirit, the tops of the waves flew back as if they were winged like the gulls themselves, and like them had the freedom of the wind.

The beauty of the writing, and the delicacy and care with which the world it portrays is observed and recorded, are typical of Pointed Firs as a whole. Anyone who has driven through New England in the Fall knows it to be one of the world's true wonders, both for the crimsons, yellows and browns of its gorgeous dying foliage, and for the singular nature of its inhabitants and localities. The Country of Pointed Firs is for those who have never had the chance, and for those who have.
---
Mark Molloy is the Reviews Editor for MAKE.