The Hermit
by Lucy Ives
Reviewed by Daniel Benjamin
---
Published:
---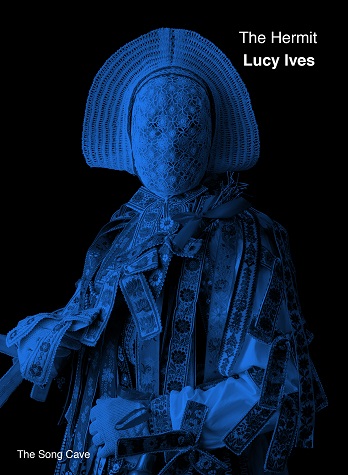 At the start of her 2013 book Orange Roses, Lucy Ives writes: "The fallacy of the poem is beautiful because it is already the embodiment of a reader, presaging the eventual arrival of a realizing eye." Her latest volume, The Hermit – a spare and epigrammatic collection of lists, brief stories, poems, and other excerpts from the life of thought – further explores the shape of this embodiment.
The various forms of writing in The Hermit take place as if in some middle distance, a few steps removed from life; a vantage from which, it would seem, they can observe not only themselves, but the reader, too. The Hermit is composed of 80 numbered entries, mostly shorter than a page, and many only a single sentence. These brief thoughts, with much white space beneath, leave room for their reader to move around, in, among, and between them. "What if a person will always be a few steps from life, whatever this is, and what if this person will feel dissatisfied, imperfect on account of this distance?" one early entry begins. "What will we say of them? Do they become a character typical of their time? And, if such a person cannot become such a character, what is the use of them?" Like the paintings of Agnes Martin or the films of Nathaniel Dorsky, the most important character in Ives's prose is its reader. In the white space underneath these notes my own mind's wanderings take on what is not exactly an importance, but a space for reading and thinking. I move around in this writing, and become aware of my moving around within it, and consider not only the shape of the writing, but my own shape as its reader.
In other words, Ives's writing encourages its readers to consider their own power and form among the reality they encounter. Sometimes in my reading, the fragmented thoughts in The Hermit would uncannily resonate with "narratives" occurring in my immediate vicinity, in the physical world in which I read. For example, Ives writes: "Imagine that love between two people is of such parity that one only has to hear the other speak; then, in an instant, remembers years of kindness. Why won't the other speak now? Why does he seem to become lost, as if inside his own living?"  In the white space below this entry, I jotted down notes on a situation unfolding beside me: I am reading on an airplane about to depart, and across the aisle to my right I hear two people next to me talking. The blonde tells the blond that her feelings for him are romantic and they should be together. She enumerates her virtues: "I'm a beautiful, smart person who loves you." His answers are short and negative. In his lap are over-ear headphones he daren't put on; he looks ahead with arms crossed. Before I root in my bag for a pencil I see her take out a notebook and start writing. I can almost see what she writes; surely he can. By the time my pencil is out she puts the notebook away having just written four or five lines. The crying babies become an object of conversation, then various timings and time changes, a return to small talk as we begin to taxi. With The Hermit in my hands, I am left considering: In an event such as this, do the people around me become characters, or do I? What is my own role in the scene I am observing? Must I sympathize with one of these would-be lovers against the other? Or could I place myself in an apposite relation, something perhaps like "parity"—and so also imagine that their silence, the awkward narrative notwithstanding, holds in it such parity as well?
The aphoristic fragments in The Hermit have a glancing and friendly relationship to narrative, though they never quite occupy it for longer than a few sentences. Ives's ability to range across many genres seems informed by the various scenes of writing in which she has worked. Her published work includes poetry, essay, and novella; she edited the innovative online journal Triple Canopy; and she has a full-length novel forthcoming in 2017. "What occurs (to us) when we are not sure what we are reading?" asks Ives in an essay in Lithub. Indeed, what are we as readers to make of the various excerpts from varieties of lists that appear throughout The Hermit: place names, "title as autobiography," writing assignments, books to read, and others? Other notes include recorded conversations, excerpts from readings, excerpts from a novel in progress, and writing games. Towards the end of the collection several of the lists seem inspired by one such "game": "Make hundreds of lists. No titles on lists, each simply starts with an item. Every item must be the most interesting thing the writer can conceive of. And so begins: a monumental failure…" But the subjective failure to make something more interesting ends up being the least interesting aspect of these lists; instead, what we encounter here is the very phenomenology of language's gathering: the mind experiencing its own relation to thought. Ives's prose recalls the daybooks of George Oppen and the novels of Renee Gladman, finding a strange beauty in self-reflexivity and mundanity.
Towards the end of The Hermit, Ives writes:
I thought also, last night, as I resolved to stop reading and get back to work, that I have always done one thing, which is to think to myself, "There is another world, and when at last we are in this other world, all the parts that currently do not touch, in this world, either will have reality or will have been resolved, in that one." The thought is so familiar that it is mostly unclear, challenging to articulate, a mush. What is the other world? And why is it—having had this thought last night, today, as I once again seek to write it down, having several times promised myself that I would write it down—impossible to reformulate? I can't seem to represent or know the thought again, so entirely familiar.
In Ives's writing, the "unclear" or "challenging to articulate" is ultimately found to function as a gesturing outwards, towards some indiscernible but intuited utopian possibility. In the "mush" of this thinking and writing, in the dark phenomenology of memory and articulation, do we still reach towards a world to come, towards the "other world" that is equally "familiar" and "impossible to reformulate"? Perhaps The Hermit cannot avow anything other than skepticism about writing's capacity to reach that other world. But in this book's ability to ask what the other world is, its readers may see themselves as its writers. And so The Hermit already embodies a movement to that other world, a movement in shadow but full of possibility.
---
Daniel Benjamin is a PhD student, poet, and part-time caretaker living in Berkeley, CA. With Claire Marie Stancek, he is the co-editor of Active Aesthetics: Contemporary Australian Poetry (Tuumba Press / Giramondo, 2016). He is also the author of the afterword for Jack Spicer's The Wasps (speCt!, 2016). Other projects include a dissertation entitled On Lyric's Universals: How Poetry Says "We," 1955-2015; and a poetry manuscript.