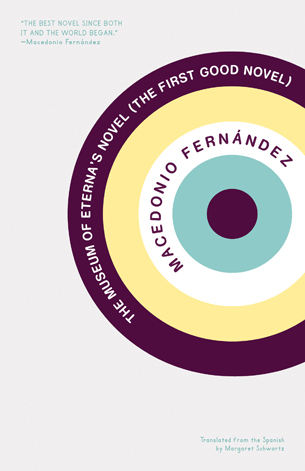 The Museum of Eterna's Novel (the First Good Novel)
A novel by Macedonio Fernandez
Open Letter, 2010 (first published 1967)
238 pages
Reviewed by Mark Molloy


Outside of Argentina, Macedonio Fernandez (1874 – 1952) is famous principally for his role as mentor to Jorge Luis Borges (1899 – 1986). Fernandez, a generation older than Borges, was born into wealth, and studied law with Borges' father, with whom he became close friends. Both were anarchists interested in the philosophies of Kant, Hegel, Schopenhauer, and especially William James. The younger Borges completed his education in Switzerland in 1921 and returned to Argentina an impressionable, upstart Imagist poet. Once back, he resumed his friendship with Fernandez. Fernandez was a paradoxical figure, notoriously hermetic yet simultaneously a famed conversationalist. With Borges' support he positioned himself in opposition to Leopoldo Lugones, the ascendant Argentinian advocate of modernism, and gradually assumed the role of figurehead of an entire generation of Argentinian writers. Fernandez even, with the support of his literary acolytes, waged two quixotic campaigns for the Argentinian presidency. In the late 1920s, however, Borges changed tack: he renounced much of his previous output, and began to deny the quality and importance of Fernandez's writings, and their influence on his own mature works. Throughout his life Fernandez had published infrequently and reluctantly, and with the withdrawal of Borges' support Fernandez largely slipped through the fingers of the critical establishment. Lately, however, a critical reevaluation has begun. Fernandez's writings, after all, display many of the dominant traits that came to define Borges' works, and it was in Fernandez's company that Borges grew into maturity as a writer. This, the first English language translation of Fernandez's The Museum of Eterna's Novel, a masterpiece of Argentinian and indeed Latin American literature, is thus an event of considerable importance.

Eterna's Novel has the feel of a swan song. Fernandez began it in 1925 – shortly after his wife's untimely death and his own abrupt abandonment of his law practice and children to assume the life of a writer – and worked on it continually until his death in 1952. It remained unpublished for fifteen years. The manuscripts for the work were found, we learn in the translator's introduction, in piles of loose papers, "compulsive lists and fragmentary observations… [unedited and] without any organizational structure." The published text, at least as posthumously edited together and presented here – non-linear and self-reflexive, playful and ponderous, fragmented and whimsical, unapologetically dense – comes across as wildly experimental, for its, and even our own, time.

Eterna's Novel is structured into two parts, or "wings," as Jim Ruland has called them. As in Tristram Shandy – probably the dominant influence on Eterna's Novel – the first part is a comically, even preposterously long prologue (or, more accurately, collection of over fifty prologues) that takes up just over half the total length of the novel. The second part, the ostensible novel proper, takes as its plot the novel's characters' gathering at a country house in preparation for their transformation "from living beings to characters" and their eventual departure from that estate to Buenos Aires, to conquer it with beauty. (In this aspect the novel is also clearly influenced by Pirandello's Six Characters in Search of an Author.) I use the word "ostensible" because, for the most part, the second part, like the first, is less an object of traditional fiction than a cacophony of brief philosophical treatises, footnotes, critical enquiries into the nature of allegory, expositions on love, determinism, phenomenology, etc. Just as Eterna's Novel has no real plot of which to speak, what characters it has are explicitly, resolutely allegorical. "The Lover is the suspension, the caesura of identity, and Sweetheart is the expectation of being," Fernandez writes. Other characters are named Absent, Awaited, Nonexistent, and Thwarted. Eterna's Novel remains explicitly meta-fictional throughout: a character asks of the characters she is reading about in a book: "Are they like the reader and author?" and, moments later, notes: "I felt as though Life brushed up against me." Quotes attributed to the reader appear frequently; the reader is addressed repeatedly with backgrounding and instructions for proper reading, etc.

I noted above Fernandez's philosophical interests. Indeed, the formal aspects of Eterna's Novel – its non-linearity, self–reflexiveness, etc. – follow directly from his metaphysical concerns. The gist of the metaphysics that underlie the novel are made explicit in its opening pages – the "real," material world is an illusion, a "dream" of some mystical, unitary, and eternal Other. We find in Fernandez's letters, in fact, evidence that he took these ideas quite seriously: "My sensibility," he wrote to a friend, "didn't begin, nor will it end, nor will it be interrupted for even an instant, nor will individual identity ever be discontinued in my memory." And it is primarily in this aspect – in its melding of literature with philosophy – that Eterna's Novel be ensured its immortality.

Though I question Adam Thirlwell's assertion in this work's preface that "Macedonio was the first novelist for whom the problem of writing was so explicitly the problem of the reader," it is unquestionably true that Fernandez's philosophical background enabled him to anticipate many of the narrative techniques that would later be associated with postmodern, readerly-oriented writers like Italo Calvino, J.M. Coetzee, Julio Cortázar, and Flann O'Brien. The shock of reading Eterna's Novel with the knowledge that (non-editorial) work on it was complete by 1952 is very real. Fernandez explicitly insists, for example, upon the necessary role of the reader in the creation of the text, describing traditional art as keeping "us all like children, spoonfeeding us," and his own art in terms nearly identical with those of reader-response criticisms. In describing his intentions in writing the book, Fernandez writes of "routing the stability" of his reader, in whom he intends to effect a "radical decentering." "I myself am," he writes, "nothing more than a shadow, a silhouette of pages!" In Eterna's Novel's final chapter Fernandez writes: "I leave it an open book… which is to say that the author… authorizes any future writer who is so inclined… to liberally edit and correct it." Interestingly, whereas later postmodernists would deploy these postures to mirror the fragmented nature of modern life and phenomena, Fernandez seems to have intended them in exactly the opposite way; for him they were meant to "obliterate and liberate the mental or emotional fear that we call the terror of ceasing to exist," to illuminate for the reader her own fictional nature in the here and now, and thus, her own eternality. Formally, of course, the final outcomes of both approaches are the same.

Eterna's Novel's novel is rich not only in it's conceptual underpinnings, but also in its particulars. Take, for instance, Fernandez's penchant for little surrealistic passages. There are, he writes, "three existing types of applause – / the one for calling a 'waiter,' / the one for shooing chickens in the yard, / and the one for catching moths." Sixty pages earlier, we had read: "Kinds of applause are valuable because they are scarce: only two are discovered every ten years." Throughout Eterna's Novel, Ferandez plays with language in this way; his de-emphasis of the fictional aspects of the text permit him to strike strongly poetic valences. Likewise, he displays flashes of great profundity ("maybe all that we call music, starting from Bach… is nothing but the elaboration of an obsession tied to fear"); captures beautifully human truths in startlingly original observations ("the most intense form of old age… occurs between the ages of twenty and twenty-five, when a man must assume all the responsibilities and demands of life… Old age is simply not about the years but about the entire relationship of the life's excessive charge with respect to the reactivity of an individual psyche"); channels, in a personal favorite moment of mine, Classical Chinese poetry to end a chapter: ("Here an elegant praying mantis has paused in front of my manuscript, undecided as to whether he would like to enter").

The character of Eterna, a goddess of sorts around whom Eterna's Novel twists, is modeled after Consuelo Bosch, Fernandez's patroness, muse and companion after the death of his wife. Eterna's Novel, in fact, is largely a testament and expression of his love for her. While the work is on the whole more conceptual than it is lyrical, there are moments in it that shine luminous with lyricism and elegance. At one point, the President – a main "character" and ostensible stand in for Fernandez himself – speaking to Eterna, says: "You are deep night, with its ebony depths, heights of life in the domed headdress of the Milky Way, brilliant dimples at diverse distances, the immense, ample swing of the celestial vault… your nearby step wakes the surrounding air, in the revolving processional towards the dawn your distant pace is congruent with all planes and summits… this is how you made yourself, pale and dark, how you undid the distractions of immortality… you are the night, as severe of aspect as your heart is lush with fervent invention." Eterna's Novel, too, is a thing of depths, of heights and fervent invention.
---
Mark Molloy is the Reviews Editor for MAKE.