Lit & Luz: Poetry Lecture at Claustro de Sor Juana
By Kathleen Rooney
---
Published:
---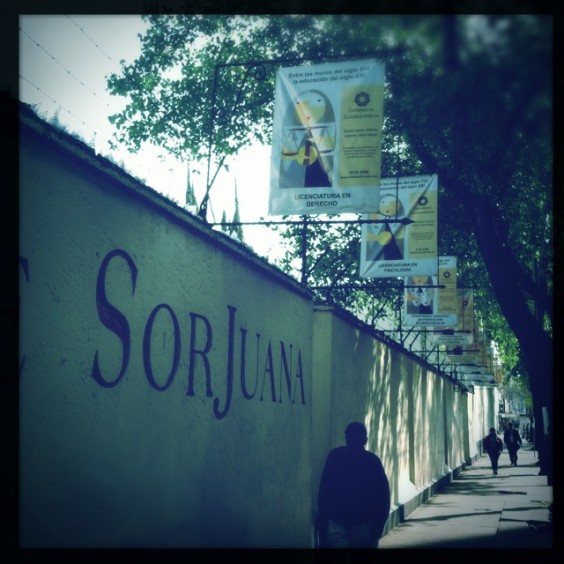 Paper money in the United States features only the faces of dead founding fathers (your Franklin, your Hamilton) or ex-presidents (your Washington, your Jefferson, your Lincoln, your Jackson, your Grant and so on), which means: exclusively men. But in Mexico, Sor Juana shows up on the 200-peso bill…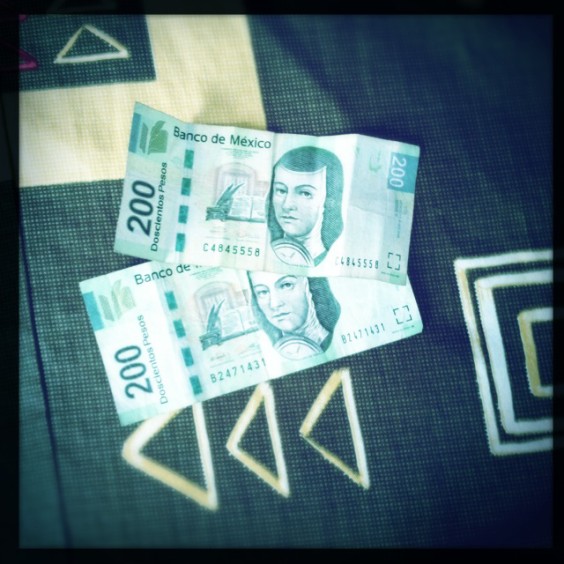 …which is thrilling to see because I've always thought she was on the money metaphorically, and it was a delight to see that she is literally, too. Sor Juana Inés de la Cruz (1651-1695) lived in Mexico when it was still the colony of New Spain. Here is her statue in Mexico City, with me at her feet: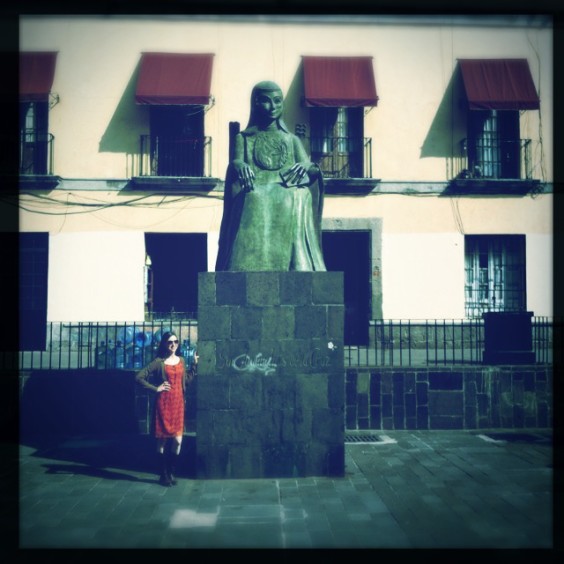 She was an autodidactic scholar and poet, as well as a nun, and she wrote during what came to be known as the Spanish Golden Age, and came herself to be known in her lifetime by the nickname the Tenth Muse. She was criticized as well as celebrated for being a woman and a member of a religious order who chose to read and write so freely, and she had to defend both herself in particular and the idea of women's rights to education in general (as in Repuesta a Sor Filotea or Reply to Sister Philotea). She means a lot to me for her exceptional example of being an author and—I'd argue—a feminist in an era when it was a struggle for a woman to be either one, so I was excited when I found out that I'd get to give a talk at the Universidad del Claustro de Sor Juana as part of the MAKE Literary Production's Lit & Luz Festival: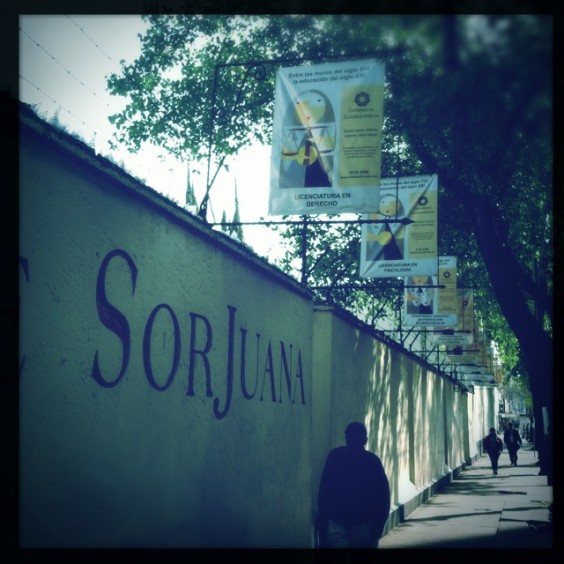 The university is in the former San Jerónimo Convent in the historic center of Mexico City, and was Sor Juana's home for 25 years, years during which she produced much of her written work: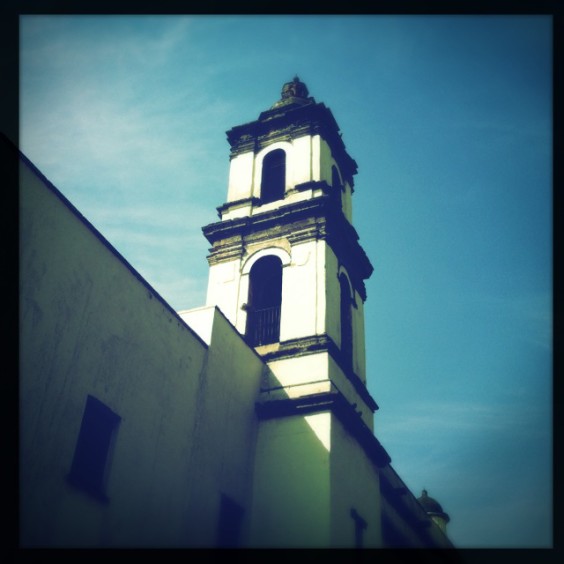 Thanks to the help of my collaborative partner Veronica Gerber Bicecci, as well as MAKE translator Paul Grens, I was able to deliver a simultaneous English and Spanish presentation of this piece about Poems While You Wait, aka Poemas Mientras Esperas.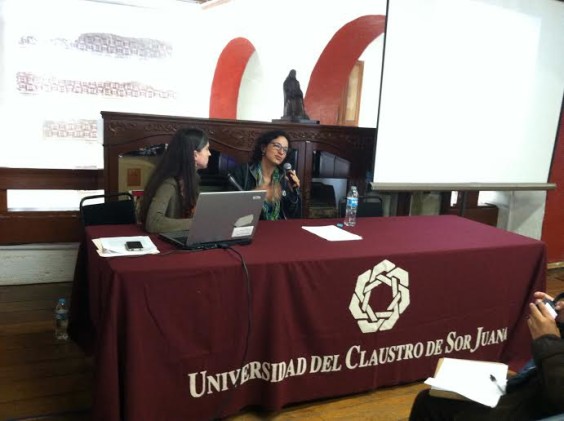 PWYW or PME is an organization that I helped to co-found with the poet Dave Landsberger back in the Summer of 2011, and which since then has grown to include key members Eric Plattner (who in addition to being a brilliant poet is a skilled typewriter repairperson), Becky Wills, and many more local Chicago poets who set up in public spaces around the city and suburbs to perform commissioned typewritten poetry on demand—any style, any subject. The goal is to provide our clients with an unpretentious, decontextualized, and surprising encounter with poetry everywhere from libraries to street fests to flea markets to botanical gardens to art museums to planetariums and beyond.
The students and faculty at the lecture were attentive and engaged and asked me a lot of smart and challenging questions, including "Do you think that everything you and the poets produce for your customers is really a poem?" (Answer: We try, and 99% of the time, I'd say that we're able to, but no, sometimes people ask for clichés—as in they use that word and say that's what they want—and do-overs, which means products that are poem-like, but probably not true poems, or not good ones), and "What is your definition of a poem?" (Answer: I go with Auden's definition of poetry as "memorable speech"), and "If I give you one word could you write a poem in front of us right now?" (Answer: If I had my typewriter, yes, but not without it because the instrument is key to the resulting composition). Some students wanted photographs afterwards: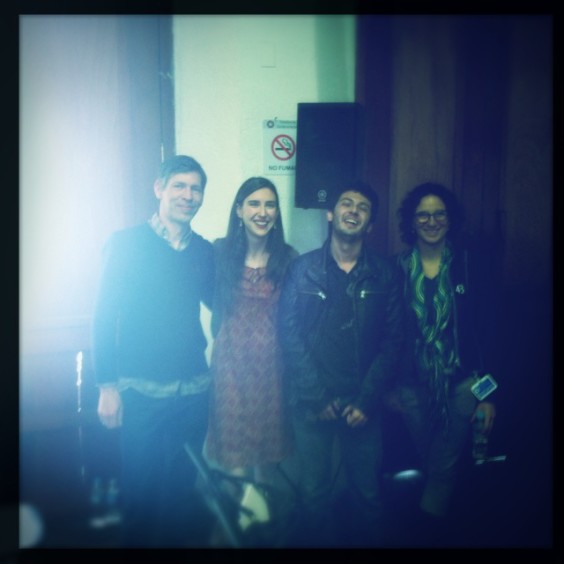 The atmosphere of scholarship and genuine artistic and academic inquiry felt great. It was an honor to present at the Universidad del Claustro de Sor Juana—to spend time in an environment that felt very much in keeping with the spirit of its namesake. It also reminded me how much I'd love to see some ladies on our paper currency here in the United States—maybe Emily Dickinson, a not un-Sor-Juana-esque figure in her own right. How about it, Obama?
---
Kathleen Rooney is a founding editor of Rose Metal Press, a publisher of literary work in hybrid genres, and a founding member of Poems While You Wait, providers of poems on demand. Her most recent book is the novel O, Democracy! (Fifth Star, 2014).