MAKE #17 Release Party
Mar 17, 2018
---
Published:
---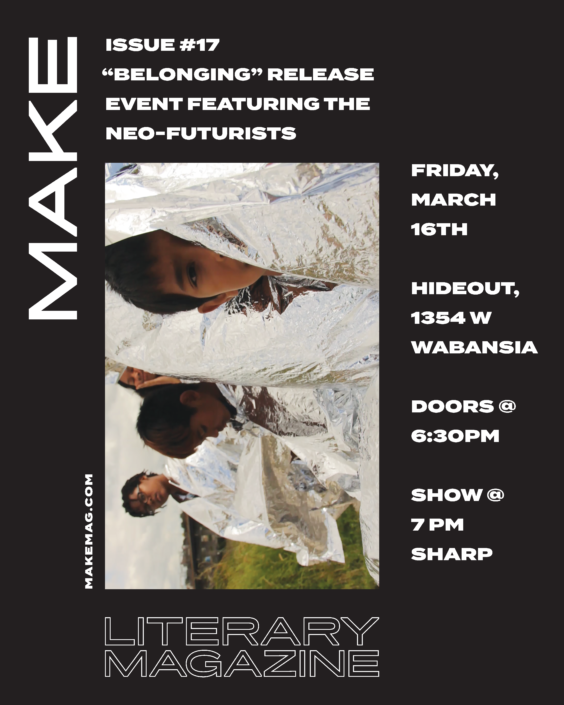 Join us for the release of MAKE #17 "Belonging"
Hideout, 1354 W Wabansia
6:30 PM, doors
At 7 PM sharp, ensemble members from The Neo-Futurists along with MAKE #17 contributors perform a one-time-only collage of stories, essays, and poems from the issue.
$5 / $15 ticket includes a copy of MAKE #17. (Super special for advance tickets only.)
Copies of MAKE #17 available at the event!
A portion of admission benefits Erie Neighborhood House
MAKE 17's theme, Belonging, came about as our landscape was and continues to be dominated by issues surrounding immigration, systemic violence, and the question of who belongs. The year 2017 amplified the voices of those on the margins of society, but reactionary efforts to extinguish this speech also found new permission and impulse. Writers and artists are perhaps best equipped to express the humanity of peoples and cultures—to generate awareness, hope, and empathy. Now more than ever we must call on these voices.
MAKE #17 contributors include:
David Kholamian
Andrea Rehani
and more
As well as ensemble members from The Neo-Futurists
---